Tāmaki Urban Market Garden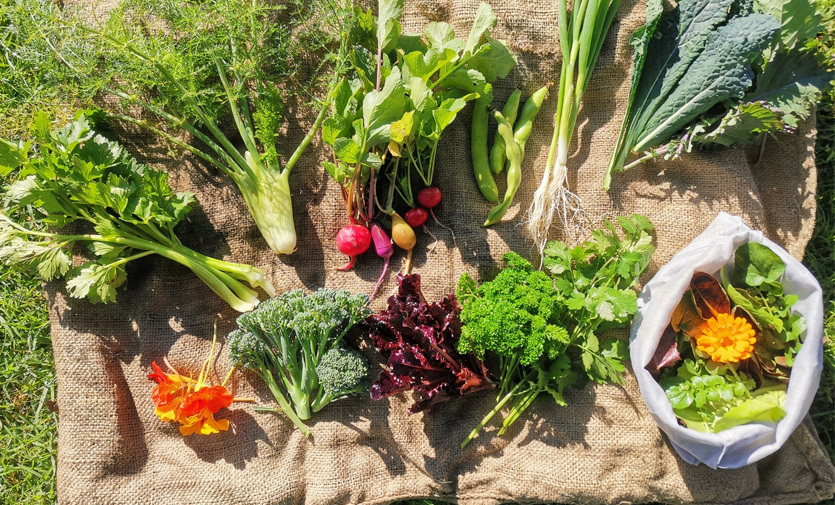 "I wanted to set up a garden with a community supported agricultural model to be about climate change, food security, sequestering carbon and using regenerative systems."
The Tāmaki Urban Market Garden was launched in 2021 and has thrived with the help of the Auckland Climate Grant. This has funded some infrastructure, including a tunnel house to grow seedlings; attendance at the Earthworkers - Regenerative Horticulture 101 course; and the hours for two farmers to expand the Glen Innes garden into something self-sustainable, funded through regular subscriptions.  
Described by founder and designer Lucy Pierpoint as an example of Community Supported Agriculture (CSA) the garden shows how urban agriculture can be used to promote sustainable living and enhance the wellbeing of communities, by providing healthy, local kai. It is also a space for people to exercise their mind and body by getting their hands in the dirt. The garden collaborates with local schools, and community organisations.
Though it does pro​duce ​food for the community via donations and paid subscriptions for boxes of vegetables/greens, the primary aim of the garden is to highlight and teach sustainable practices. The 15 beds of vegetables and herbs work on a no-dig poly-cropping model, where a diverse array of species are grown in the same place, at the same time, to produce a dense coverage of growth and a variety of root systems. This ensures that maximum carbon is sequestered and soil micro-organisms are supported – creating a carbon sink in an increasingly urbanised area. Plenty of flowers are also there for pollination and soil health is supported by the rich compost produced on-site from locally sourced food scraps.
Subscribers either receive a weekly or fortnightly box of mixed seasonal vegetables or just salad and cooking greens, suitable to supplement the pantry of a family of four. Harvests are carried out twice weekly and any extras are taken to the Faith Family Church community or to other community organisations.
"I wanted to set up a garden with a community supported agricultural model to be about climate change, food security, sequestering carbon and using regenerative systems," says Lucy.  
"The funding really boosted my confidence to actually make this project happen, allowing learning and eventual employment for two farmers to work on site." 
The Climate Grant was provided to charitable trust, Tāmaki WRAP (Waste Reduction Action Project), which oversees the project. While Lucy is a trustee at Tāmaki WRAP, the hours she gives herself to the garden are all voluntary, and there is one other regular volunteer, plus the two paid farmers. ​​A​ll four have completed the intensive Earthworkers course run by For the Love of Bees, with the Auckland Climate Grant and funding from Tāmaki Regeneration Company (TRC) funding two places on the course. A grant from the Maungakiekie-Tāmaki Local Board went towards rainwater tanks for watering and washing the vegetables before distribution.
The farmers have regular workdays of Tuesdays and Fridays, when volunteers can attend and be guided by them and skills also get passed on at the monthly Saturday working bees and Monday evening garden sessions.
"We have a good volunteer base growing seedlings, helping with maintenance, harvesting and providing other resources.  This has been a great capability building and confidence building exercise over the grant period," says Lucy.
Lucy ​visualised ​the garden as part of a Permaculture Design course and it became a reality when she was encouraged to put it into practice and found barriers falling all around her – privately-owned land behind her local GP, Elstree Family Doctors, was available to use free of charge, the surgery supported the project and she was successful in several funding applications. 
"This is building resilience in growing food locally with no transport or packaging costs or impacts. Because we are a subscription service, the subscribers are supporting the production and not having to be affected by market fluctuations in the cost of their kai."
The recent severe weather events highlight the need for climate resilience, with the garden a perfect example of this.
"We are working hard to support the microbes in the soil to hold it together and feed plant growth and we suffered from neither flooding nor erosion. Because we grow a diversity of species and have virtually no bare soil, the plants and the soil stayed firm and we continued to harvest, providing food for up to 10 families a week at the same subscription rate."