Albert-Eden & Puketāpapa Eco Festival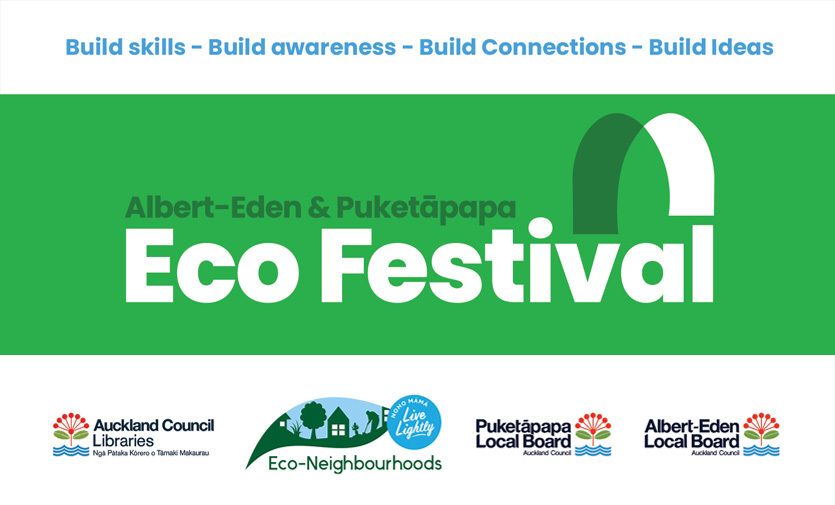 "Nothing beats that kind of face to face interaction where people are furthering the conversation and changing a little bit internally through it."
The Albert-Eden & Puketāpapa Eco Festival was held for the first time in 2022, and returned again for 2023. While the recent floods and cyclone added a touch of trepidation to planning the month-long event, they also provided the perfect real life example of why events like this are so important to highlight climate change, how to take action, and how to do this as a connected and resilient community.
The 2023 festival ran from 18 March to 16 April and organisers Community Collective NZ aim was to get people thinking about local solutions and climate actions, says Community Collective's Heather Lyall, who organised the festival with coordinator Natalie Wotherspoon.
"We wanted to really highlight existing local organisations and groups as well as bring people together to discuss new initiatives and new opportunities – to have a festival that's really focused on local solutions and local opportunities because climate action can feel overwhelming, but local community action feels really feasible."
Both the inaugural 2022 festival, and this year's event were made possible by $20,000 from the Auckland Climate Grant and funding from the Albert-Eden and Puketāpapa Local Boards, contributing to event coordinator hours and event costs, for instance promotional materials, workshops costs and workshop facilitators where extra support was needed.
Heather says this support and funding has been vital to getting the festival off the ground at all, and running it for the second time, and that council staff have been supportive and easily able to "swivel and look at things from a different perspective – nothing's been insurmountable," she says.
While the inaugural festival in 2022 saw many events pushed online or cancelled due to the omicron outbreak, the lack of restrictions this year meant more than 100 events could be held across the two local board areas. They focused on the key areas of transport, food and energy, and included events at all four libraries in those local board areas, and events at community gardens, bike hubs and community centres.
Events this year included workshops on composting, worm bins, repairing items, organic gardening and preserving food, street clean ups, working bees, bike maintenance workshops and e-bike guided rides, and events offering home energy advice and information about residential solar power. The Community String Knitting Adventures also returned this year, with a group knitting activation to interpret local climate change data through knitted objects. 
The festival made the topic of climate change more accessible to a wider audience and meant that people could connect with local groups taking positive action and be supported to do the same, building capacity within the community, adding to local contributions to sustainable living, and overall emission reduction. The various groups could also connect with each other, forming large networks across the local area.
The idea for the Eco Festival began in Heather's mind in 2021, when she was asked to share her extensive list of contacts so a few events could be organised at libraries and community centres. She thought bigger, and decided to pursue the idea of a full festival across two local board areas involving all their libraries and community centres, plus other local groups and people, focusing on sharing knowledge about climate change and sustainability, building connections and creating local solutions, and above all, having conversations around how people could reduce their emissions and work together.
"Nothing beats that kind of face to face interaction where people are furthering the conversation and changing a little bit internally through it," says Heather.
A social media campaign also swung into action for the 2023 festival, with daily tips on changes you can make to help reduce emissions a little bit at a time.  
They have also worked to improve the accessibility and inclusivity of the festival for Māori, Pasifika and other ethnic groups, and disabled people, though Heather knows they can do more in this space, and wants to build the inclusivity long-term.
The full programme can be found on their Facebook page.