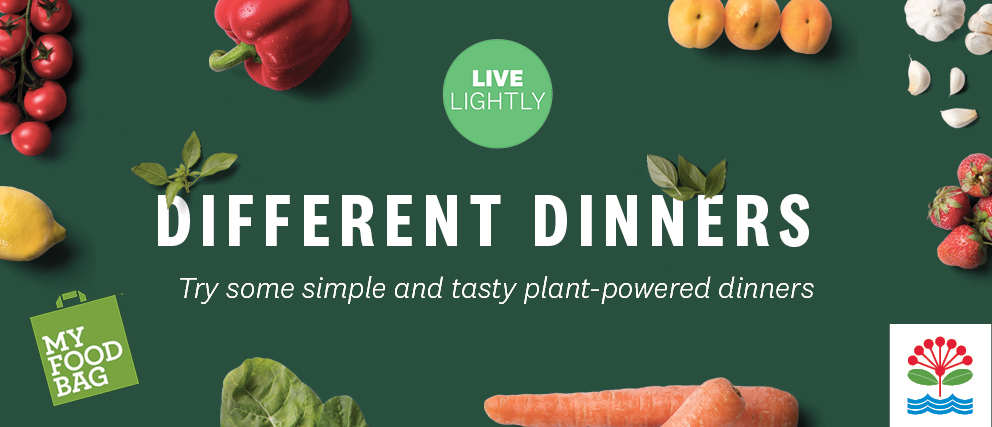 Thank you for taking part in our Different Dinners trial!
The Different Dinners trial is about enabling Tāmaki Makaurau / Auckland households to try some plant powered meals they don't usually cook. Live Lightly did some research and found that people want easy and tasty options to help them get familiar with choosing different dinners. We know that cooking different dinners can be a challenge. That's why we've made it easy, by  partnering with My Food Bag so you can give some tasty, nutritious plant-powered recipes a go.
Eating meals with more plants is not only better for your health, it's better for the planet, too. You don't have to switch to a complete plant-based diet to eat more sustainably. Swapping just one or two meals per week can have a big impact.
---
How to redeem your FREE My Food Bag Plant Power Bag:
If you have any issues while placing your order please contact My Food Bag's Customer Love team
Visit My Food Bag Plant Power to set up your My Food Bag account
(can be cancelled from Monday 19th September)
Enter your unique code, which has been emailed to you. If you have not received it, please email hello@livelightly.nz
Confirm your order!
Remember – you need to sign up to My Food Bag and enter your credit card details. They won't charge you because your box is free as part of this trial. Once you've ordered your box, you can go in and cancel your subscription, so you don't get charged for the next week's box.
---
How to cancel your My Food Bag subscription:
Remember, after you have ordered your FREE My Plant Power bag you can cancel your subscription from Monday 12 September to avoid using and paying for the My Food Bag service in the future.
See how to cancel your subscription here
Login to your My Food Bag account
From the tabs at the top, select 'Manage Account'
Under 'Subscriptions', click 'Start Cancellation' to cancel your current subscription
Scroll down and click 'Complete Cancellation'
You will know your cancellation is successful when you receive a confirmation email shortly after. 
Over the next two months we will be sending two 1-minute surveys to see how you've gone.
We hope you enjoy giving a few of these recipes a go, and learn some new ways to cook and eat.
We'll also be sending you a plant-powered recipe booklet, a meal planner fridge magnet, and a handy shopping list for you to make your own shopping plan and continue to try out different dinners once you have used your food box.
Contact My Food Bag's Customer Love team
For more information, visit livelightly.nz/eat, or contact us at hello@livelightly.net with any questions.
---
Food-saving tips for smaller households:
You may choose to freeze leftovers to eat another day, or you might like to invite someone over to share a meal with you! For tips on loving your leftovers, checkout: livelightly.nz/eat/#reduce-waste
---
Food box tips for larger households:
You might want to add some extra ingredients to your meal to make it go further. Depending on the recipe, this might look like doubling the vegetables (e.g. 2 broccolis instead of 1), adding an extra tin of beans, or cooking up some more rice.
---
Some more information:
Why is Auckland Council conducting this research? 
As a member of C40 Cities, Auckland Council has joined many other international cities in making a commitment to take bold climate action and lead the way towards a healthier and more sustainable future [1].
Did you know, that 71% of NZ consumption emissions are produced by households [2], with 25% of this coming from food and non-alcoholic beverages [3]? This is massive – and a key contributor to this footprint is the meat and dairy consumed in our daily diets.

Consumption emissions factor in the full emissions associated with producing a product or service. This allows the impact of what we consume to be captured along the full life-cycle of a product including raw materials, manufacturing, distribution, waste, etc, whether it is produced in NZ or overseas. Knowing what the consumption emissions of particular products are helps people make informed choices.


In July 2020 Auckland Council approved Te Tāruke-ā-Tāwhiri: Auckland's Climate Plan [4], with the goal to halve Auckland's emissions by 2030 and reach net zero emissions by 2050. Food is one of the priority areas in the plan "Our goal is a low-carbon resilient local food system that provides all Aucklanders with access to fresh and healthy food". We hope to encourage Aucklanders to adopt a flexitarian diet, which includes a larger proportion of plant-based meals but doesn't exclude meat and dairy. This is aligned with New Zealand Dietary health guidelines [5].
What research is there to suggest Aucklanders want to change their eating choices?  
Most Aucklanders (86%) are willing to change their lifestyle to ensure we meet our climate commitments, with two in five willing to make radical change [6] (Auckland Council, Climate Change Action and Public Perceptions Survey 2019).
52% of Aucklanders believe we need to change our diet to protect the environment [7] (Colmar Brunton Better Futures report 2020).
21% of Aucklanders are already eating a meat-free diet all or most of the time [8] (Colmar Brunton Better Futures report 2020).
[1] https://www.c40.org/[2] Greenhouse gas emissions (consumption-based): Year ended 2017 | Stats NZ[3] Greenhouse gas emissions (consumption-based): Year ended 2017 | Stats NZ[4] https://www.aucklandcouncil.govt.nz/environment/Pages/auckland-climate-action-plan.aspx[5] https://www.health.govt.nz/our-work/eating-and-activity-guidelines.[6] Auckland Council, Climate Change Action and Public Perceptions Survey 2019[7] 2020 Better Futures The Auckland Story 20.03.20.pptx[8] 2020 Better Futures The Auckland Story 20.03.20.pptx